Appearance  Here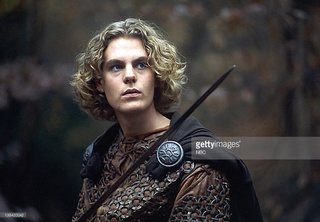 Faceclaimed:
Paul Curran
Name: Joffrey Lannister
Titled Name: Lord Joffrey Lannister
Age:17
Personality:
He has been called uncaring unless it involves him in anyway. His sister says he can be caring when he wishes.
Birth Place: Lannishall
House Of: Lannister (Of Lannishall)
House Sigil:
Mental Attributes
Mental: Joffrey is a daydreamer this why sometimes he is in a daze during meetings etc.
Physical Skills: Joffrey is a novice to swordsmanship but he is better with a "sneak attack" with a dagger.
Social Skills: Joffrey can persuade others at an adept rate.
Biography
Family: Edric Lannister- Brother
Ashara II Lannister- Sister
Ethan Lannister- Uncle
Lysa Lannister- Mother
Vernan II Lannister- Father
Rumors:
He sent his uncle Edric to kill 100 men and he returned with only a cut on his cheek.
Known In Public:
Joffrey can be kind and thoughtful.  But he also tries to strike fear into his enemies.
History: Joffrey was heir of Vernan II and 1st born son but 2nd born child. His father was strict on him saying brains is stronger than bronze. Later at the age of 5 he left Lannishall to go with his father to secure the area from bandits.
It was a tough time of a year for him but the bandits attacked their camp. The guards killed of some of the bandits the others burned in the fire they set. But his father... their leader put a blade through his heart. Ethan Grabbed a Dagger and lunged it through the bandits neck.
Later he returned home learning news that his mother had a male baby and named him Edric. At the age of 14 he named his uncle his Lord Commander of his army.
"Nephew hello." Ethan entered the room smirking. "What is so  amusing uncle?" Joffrey asked. "Come, come nephew I have something to show you. Ethan signed as they walked out, "where are we going?" Ethan thought as they walked what does he want..."We are here, this man tried to assassinate me."

"M'lord I was drunk please forgive me." Joffrey stared him down "Why not have an execution sounds good to me." The drunk demanded "I want a Trial by Combat!" Joffrey smirked and giggled "lets see your sword skills." A man picked up a sword and threw it to the drunk. "Uncle you fight for me." Ethan drew his sword as Joffrey stepped back. "Fight!"

They clashed blades as the noise of metal clashing. Drunk tried an upward swing. Ethan knocked him off his feet. Ethan put his sword in the Drunk's neck. Ethan put his sword in his holster. "How was that Joffrey?" Joffrey said "Excellent now lets go I have better things to do." They walked off."